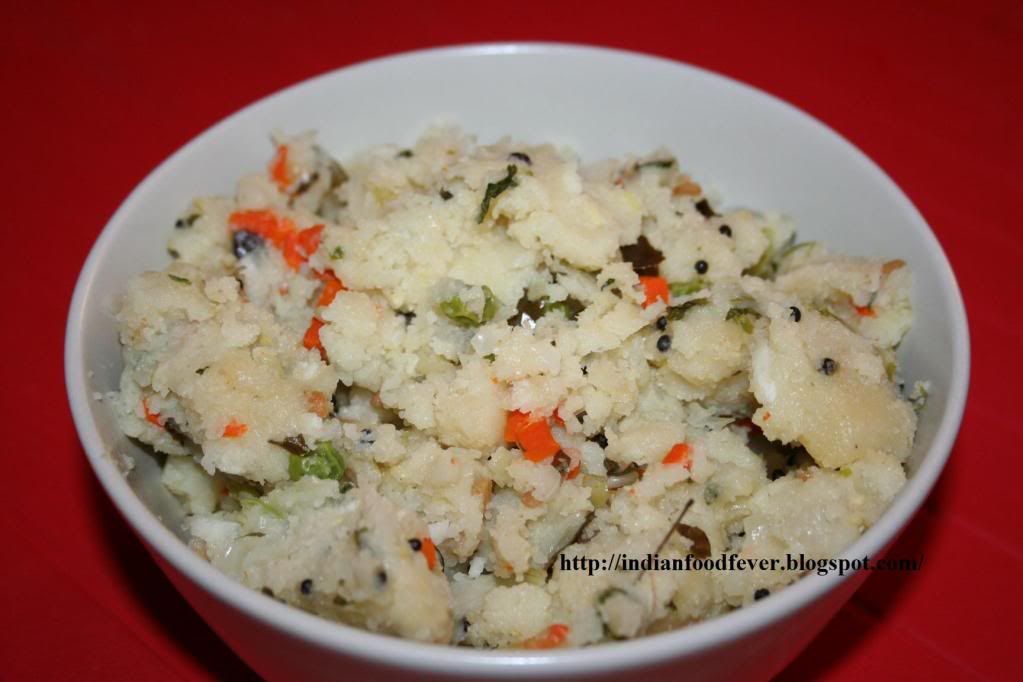 What you will need:
Rava / Sooji - 1 1/2 cups
Onion - 2 medium sized, chopped
Vegetables - 1 cup (beans, carrot, peas etc , this is optional)
Coriander leaves - few, finely chopped
Shredded coconut,fresh - 1/4 cup
Sugar - 2 tsp
Mustard seeds - 1 tsp
Curry leaves - 2 strands
Urad dal - 2 tsp
Green chillies - 4 to 5
Warm water - 2 1/2 cups
Oil/Ghee - 2 tbsp
Salt to taste
How to prepare
Cook the vegetables with a little salt. Drain all the water and keep aside.
Heat oil/ghee in a pan. Add mustard seeds. When the mustard seeds crackle, add urad dal, green chillies, curry leaves and onions.
Fry until the onions turn golden brown. Now add the rava. Fry the rava until a nice aroma comes out. Now add the sugar, salt and cooked vegetables and stir.
Pour the warm water into the pan and mix it well with the rava. Cover and cook on low flame for 5 minutes. Add the coconut and coriander leaves and mix well. Cook until all the water is absorbed by the rava. Serve hot.