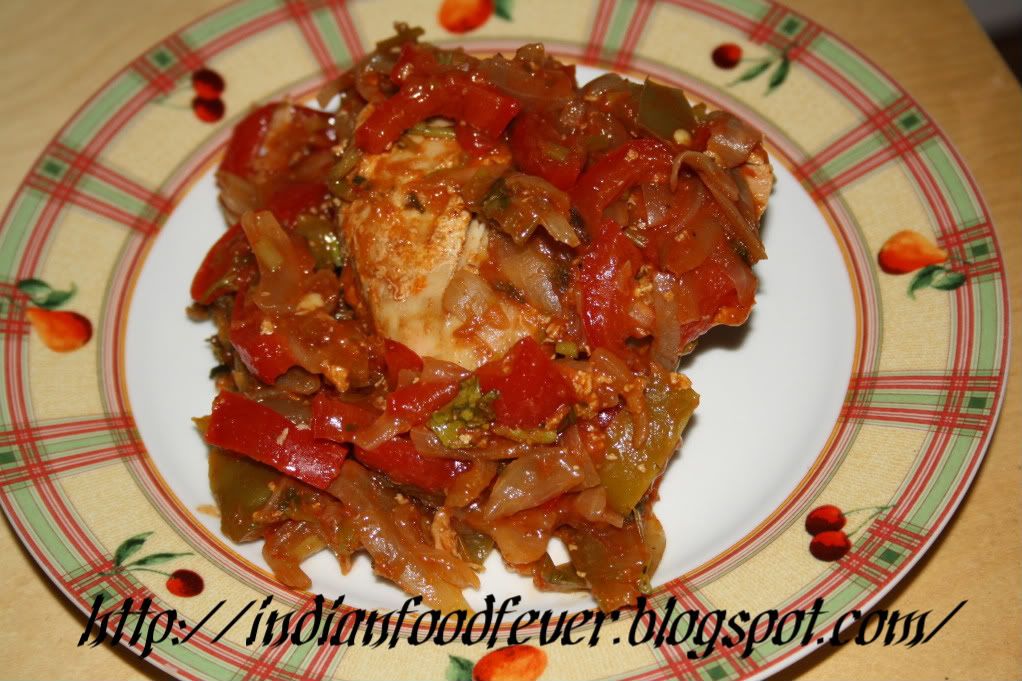 What you will need:
Chicken - 1 lb (about 1/2 kg)

Capsicum - green and red, sliced ( also yellow and orange if you can find them)
Onions - 2 medium, sliced
Tomato - 1 large, finely chopped ( or you can use store bought tomato paste - use 2 tbsp)
Cumin seeds - 1 tsp
Coriander leaves - 2 strands, finely chopped
Mint leaves (optional) - 3 to 4 leaves, finely chopped
Oil - 1 tbsp
For the marinade:
Yogurt - 2 tbsp
Ginger garlic paste - 1 tsp
Red chilli powder - 1 tsp
Turmeric powder - 1/4 tsp
Coriander powder - 1 tsp
Salt to taste
How to prepare
Mix all the ingredients for the marinade. Add the chicken and keep aside in the refrigerator for 3 to 4 hours.
Add the chicken with the marinade in a pressure cooked and add 1/4 cup of water. Cook until 2 whistles. The chicken actually looks weird when cooked this way. This is because the water from the yogurt separates and forms little lumps, but it still tastes great and the chicken is cooked really well.
Instead you can heat oil, add the marinated chicken, fry for 2 minutes. Then add 1/4 cup of water, cover and cook until the chicken is done.
Heat oil in a separate pan. Add cumin seeds. When the cumin crackles, add sliced onions. Fry until transluscent.
Add capsicum/green peppers and chopped red peppers and fry for 2 minutes. Add the chopped tomato ( or tomato paste). Add chopped coriander and mint leaves.
Now place the cooked chicken on top of the capsicum mixture. Cover and cook on a very low flame for about 5 minutes. Turn the heat off and let the chicken sit in the mixture for some more time to let the chicken absorb the flavor of the capsicum.
Serve hot with rice or chapatis.