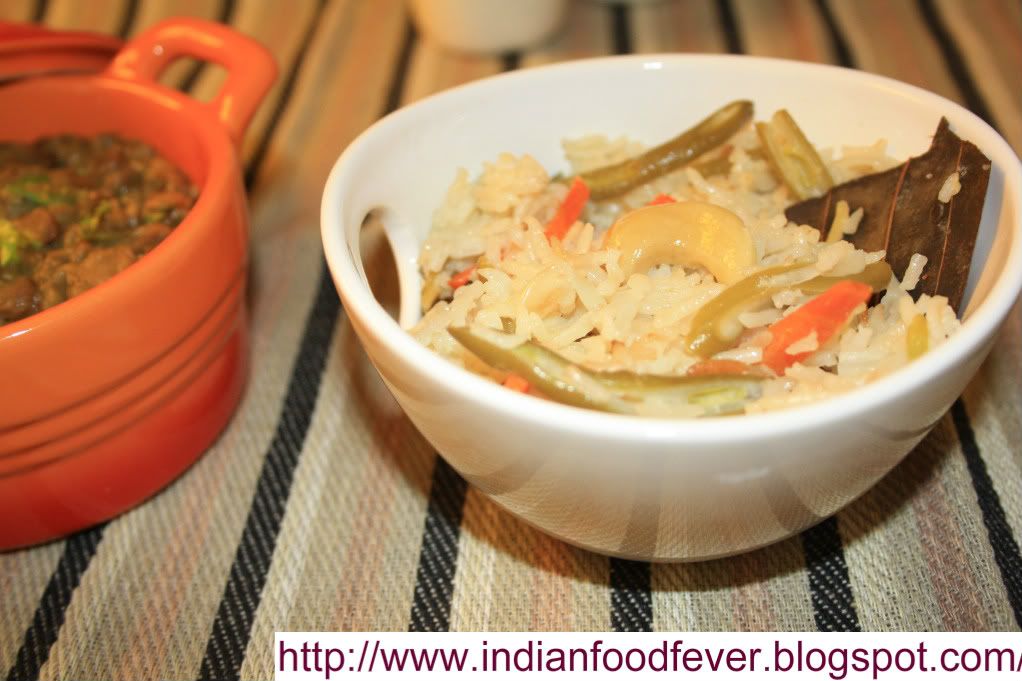 Ghee rice is a delicious combination with meat dishes or spicy dal. Make sure you use Basmati rice as the aroma of the rice would be different with regular rice. The coconut milk gives this rice a creamy taste.
What you will need:
2 cups Basmati Rice
Onions - 2 large, slices
Ginger chopped - 2 inches
Garlic chopped - 2 large cloves
Mixed vegetables ( beans, carrots, peas ) - 1 cup
4 slit green chilies
Whole spices - garam masala ( cloves, cinnamon, bay leaf, cardamom)
Cashews - about a handful
Ghee - 3 tbsp
2 cups coconut milk
Coriander leaves, a bunch
Salt to taste
How to prepare:
Heat ghee in a thick deep skillet. When it is hot, add the whole spices. Saute for a few seconds.
Turn the heat down and add cashews, fry for about 10 seconds and then add chopped ginger,garlic and slit green chillies.
Add onions and fry until they are transparent. Now add the rice and fry it well for about a minute.
Add the vegetables and fry for another minute.
Add salt, 2 cups of coconut milk and 2 cups of warm water.
Lower and heat and cover and cook until the rice is done.