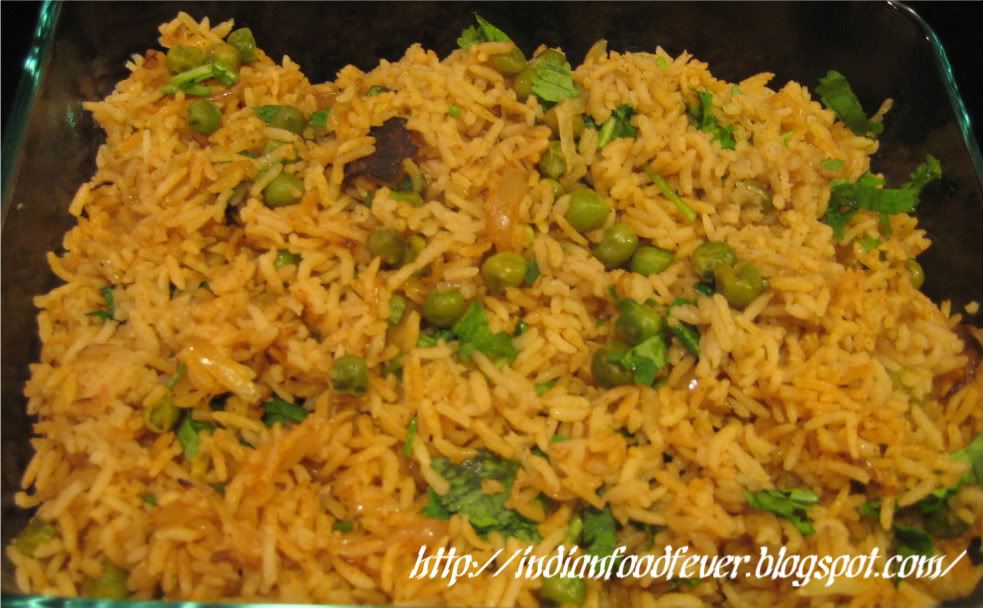 Green peas pulao is very easy to cook and is ready within 20 minutes. The secret ingredient here is the milk. It adds a very rich taste to the pulao. I usually do not use basmati rice for this as it tastes equally good with the normal white rice. Here in Canada, I made it with 'jasmine' rice which has a very nice aroma when cooked. If you are using a rice cooker, you can follow the same procedure given below, and in the end transfer everything to the rice cooker and then add the water.
What you will need:
Rice - 2 cups, washed
Green peas - 1 cup
Onions - 3 medium, sliced
Ghee / Oil - 1 tbsp
Cashews - 10 - 12 (optional)
Whole garam masala (1" cinnamon stick, bay leaves, cloves, cardamom , mace blades)
Green chillies - 5 to 6
Ginger - 1 inch, finely chopped
Garlic - 4 to 5 pods, finely chopped
Water - 3.5 cups
Milk - 1/2 cup
Coriander leaves - finely chopped, a bunch
Coriander powder - 1 tbsp
Cumin powder - 1 tsp
Salt to taste
How to prepare
Heat ghee/oil in a pan. Add whole garam masala, green chillies and cashews. Fry them all together. Add the chopped ginger and garlic and then add the sliced onions. Fry the onions until they turn brown in color. Now add the rice and fry it for atleast 5 to 10 minutes. Add the green peas, 3.5 cups of water and 1/2 cup of milk. Cover and let the mixture boil. Now add the coriander powder, cumin powder and coriander leaves. Mix well. Cover and cook until the rice is done.
Instead of a pan, you can also use a pressure cooker. Serve hot.