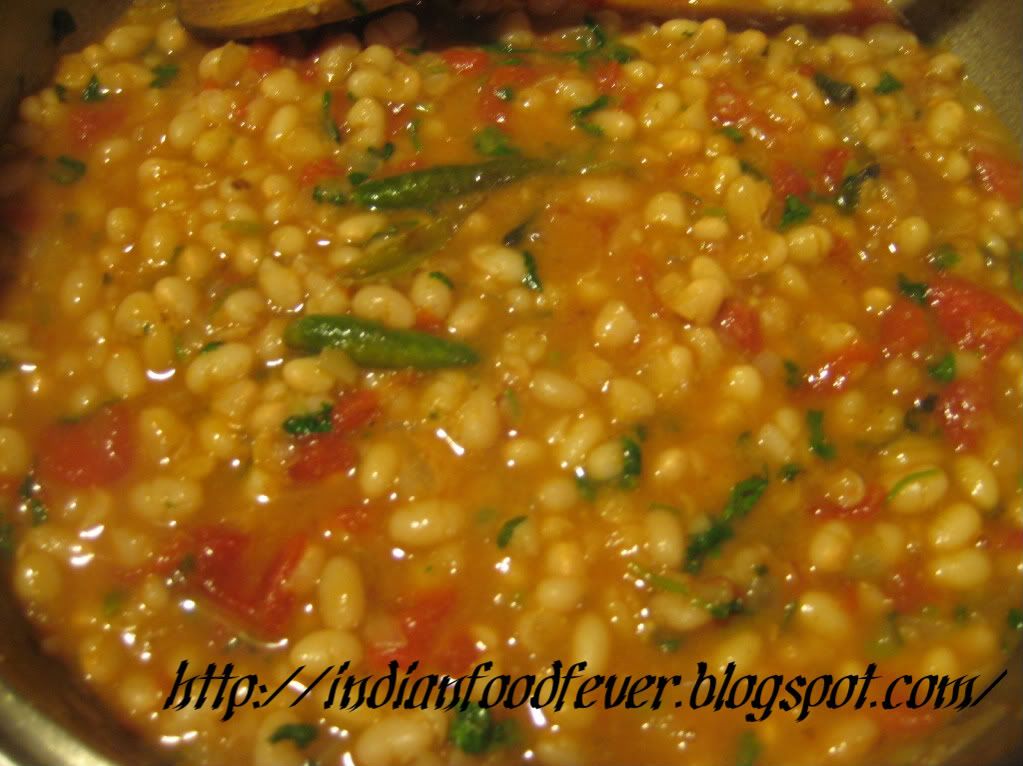 These white beans, I do not know what the actual name in English is are called Tingalavare in Kannada and Konkani. This is one of my favorite beans after Chole (chickpeas) and Rajma (Kidney beans). The tingalavre masala is a regular in my kitchen now. It can be eaten with rice or chapati or even poori.
What you will need:
White beans (Tingalavare) - 1 cup
Onions - large, chopped
Tomatoes - 2 medium - chopped
Green chillies - 4
Turmeric powder - 1/4 tsp
Coriander powder - 1 tsp
Cumin powder - 1/2 tsp
Garam masala powder - 1 tsp
Coriander leaves - 4 strands
Salt to taste
Oil
How to prepare
The beans should be soaked overnight for at least 8 to 10 hours. If soaking in hot water, 2 hours should be good enough. Cook the white beans in a pressure cooker with slit green chillies. The beans should be cooked until they are really soft. So I would cook it in the pressure cooker for 3 whistles and keep it on a low flame for another 10 minutes. Slightly mash some of the cooked beans to make the sauce thicker.
Heat oil in a pan. Add onions and fry them until they turn brown. Add the turmeric powder. Now add the tomatoes and cook until the tomatoes are soft. Add the cumin and coriander powder. Add the cooked beans and salt. Add some water now to get the consistency you like. Bring the mixture to a boil. Add the garam masala powder and coriander leaves. Turn the heat off after a minute. Serve with rice, roti or naan.