This is my mom's recipe. She always packs this for lunch for my dad. It can be prepared in a jiffy and tastes really good. A very good way to fix the left-over rice. Try it out...I'm sure you're going to love it!!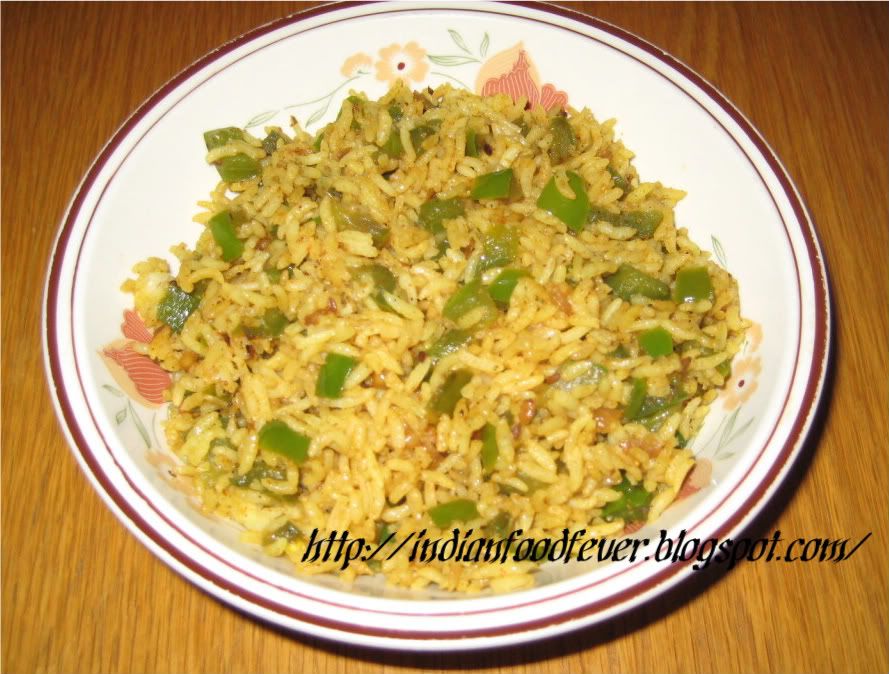 What you will need:
Cooked rice - 1 cup
Bellpepper/Capsicum - 1/2 cup
Onion - 1 large, chopped
Garlic - 1 tsp chopped
Green chillies - 2
Cumin seeds - 1 tsp
Turmeric powder - 1/4 tsp
Red chilli powder - 1/2 tsp
Rasam powder - 1/2 tsp
Lime juice - 1 tsp
Oil - 1 tbsp
Salt to taste
How to prepare

Heat oil in a pan. Add cumin seeds. When the cumin seeds crackle, add green chillies, chopped garlic and onion. Fry until the onion turns brown. Add turmeric powder and red chilli powder and mix. Now add the chopped capsicum and fry. Sprinkle a little water and cover and cook for 5 minutes. Add the cooked rice, salt and mix everything together. Cover and cook on a low flame for about 3 to 4 minutes. Add the rasam powder. Turn the heat off and keep the pan covered. The rasam powder will cook when you keep it covered. Add the lime juice just before serving.