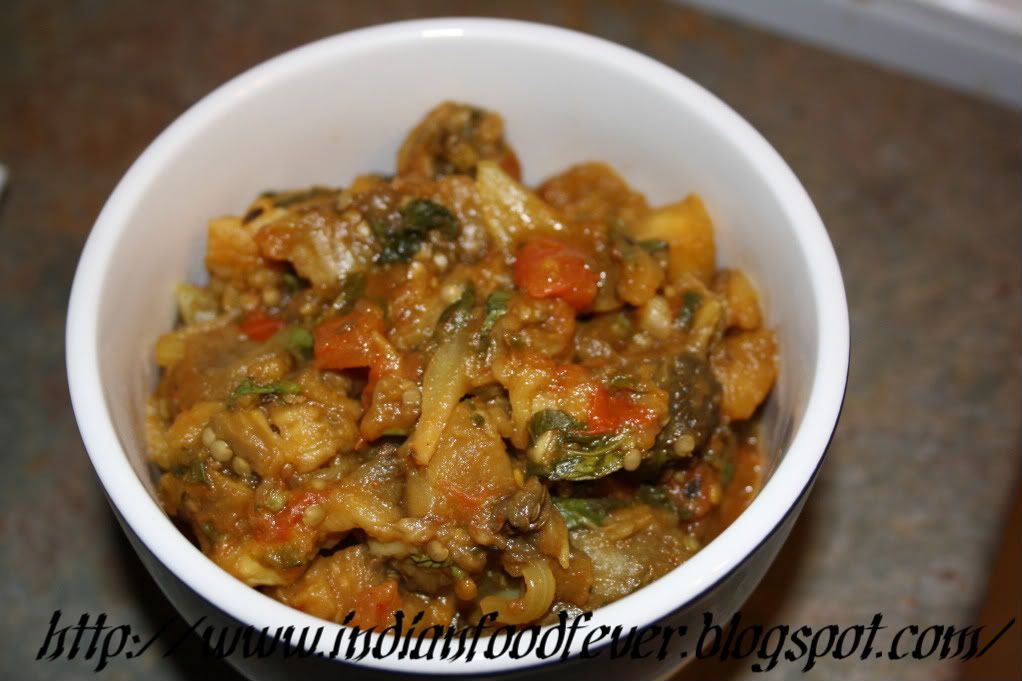 What you will need:
Eggplant - 1 large
Onion - 1 large, finely chopped
Tomato - 1 large, finely chopped
Ginger garlic paste - 1 tsp
Green chillies - 2 to 3, slit
Cumin seeds - 1 tsp
Coriander seeds - 1 tbsp
Chilli powder - 1 tsp
Turmeric powder - 1/4 tsp
Garam masala - 1 tsp
Fresh coriander leaves - a small bunch
Salt to taste
Oil - 1 tbsp
How to prepare
Apply oil on the eggplant and grill it in the oven at 400 C for about 30 minutes. Peel the skin off and chop the eggplant. If you do not use an oven, you can grill the eggplant on stove top.
Heat oil in a skillet and add cumin seeds. When the cumin seeds crackle, add green chillies and ginger garlic paste. Fry slightly and then add chopped onions.
After the onions turn transluscent, add chopped tomatoes. Add the coriander seeds, salt, turmeric powder and chilli powder. Cook until the tomatoes turn soft.
Add the mashed eggplant. Mix everything together and cover and cook for about 5 minutes on a low flame so that the eggplant is infused with the masala flavors.
Stir in the garam masala and garnish with coriander leaves.
Serve with hot rotis!!