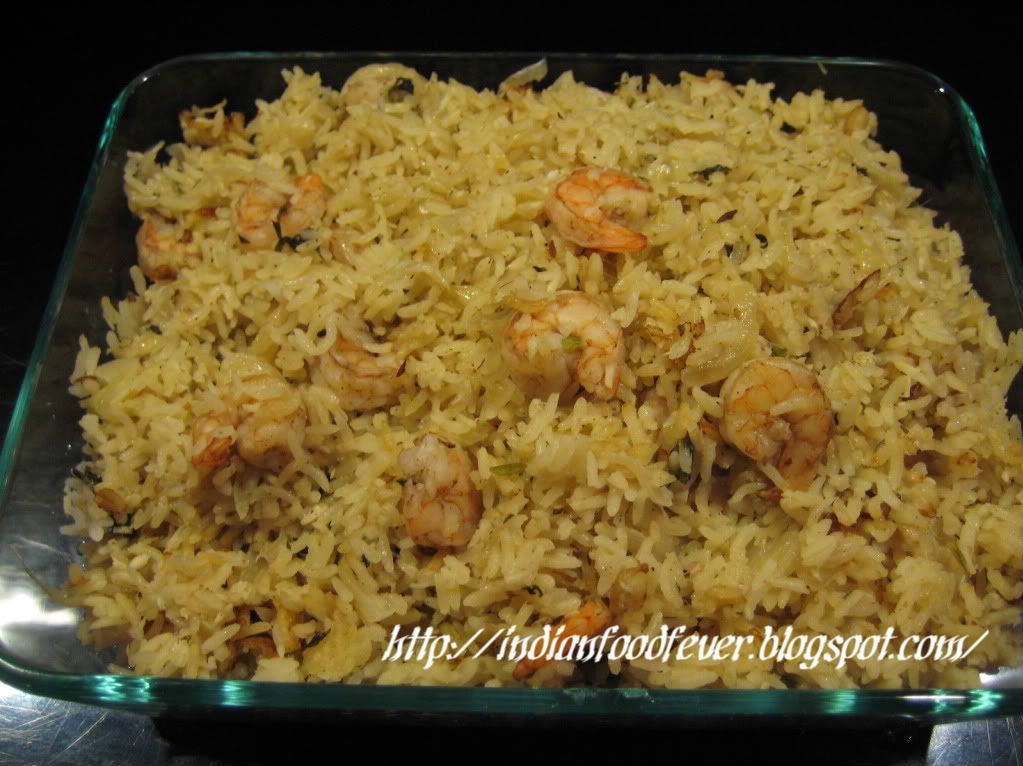 What you will need:
Shrimps (Prawns) - 12 - 15, deveined
Lemon juice - 1 tbsp
Rice - 2 cups
Onions, sliced - 2 medium
Coconut - 1 cup
Coriander leaves - 4 to 5 strands
Mint leaves - 4 to 5 strands(optional)
Green chillies, slit - 4 to 5
Ginger, chopped - 1 tsp
Garlic, chopped - 1 tsp
Cumin seeds - 1 tsp
Bay leaves - 1 or 2
Cloves - 4 to 6
Star anise - 2
Oil - 2 tbsp
Salt to taste
How to prepare
Marinate the shrimps in mixture of lemon juice and salt.
Heat oil in a thick bottomed pan. Add the cumin seeds. When they splutter whole garam masala (bay leaves, cloves, star anise). Sauté until the aroma of the garam masala arises.
Add the sliced onions and sauté for 3 to 4 minutes or until the onions turn light brown in color. Add the slit green chillies, ginger and garlic.
Add the rice and fry for a minute or two. Add the chopped coriander and mint leaves. Add the coconut milk, 2 and a half cups of warm water and salt. Cover and let the rice cook.
In a separate pan, heat a tsp of oil. Add the shrimps along with the marinade. Cook for about 5 minutes until the shrimps are done.
When the rice is almost done, add the cooked shrimp and mix well. When the rice is cooked, transfer it into a serving dish and serve hot.